Hi everyone don't know where the nice weather has gone too.
Thank you all so much for your fabulous entries the winner and design team favourites will be announced shortly.
We are a few dt members short if you would like to be on the design team please contact me for further details.
You would be required to make one make a month using a digital stamp supplied by our sponsor.
You don't need a active blog to apply previous design team work is not necessary.
Here are the details of this months challenge.
CHALLENGE 21
Theme Anything Goes
This month our fabulous sponsor is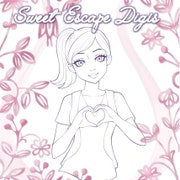 The design team ladies have been busy creating for your inspiration and here are their fabulous makes.
Geesje
TitBelsoeur
To enter the challenge please click on the blue frog.
Good luck Everyone.